Frequently Asked Questions
Where is Liam based?
Liam is based in Sydney, Australia.
Does Liam travel?
Absolutely. Liam regularly travels Australia and the seven seas performing his show. He has also performed in more than ten countries.
Is Liam any good?
We think so but don't take our word for it, take a look at his showreel or check out one of the many testimonials and reviews around the website. Or why not pop along to one of Liam's public shows and check him out for yourself.
Where can I see Liam perform?
Although most of Liam's performances are at corporate events, Weddings or private parties he also performs many public shows. The best way to find out about Liam's public shows are to join the mailing list or check out the what's on page
What type of events does Liam perform at?
Liam performs at a wide variety of events. Liam regularly performs at corporate events, cocktail parties, award nights, team building exercises, golf days, birthdays, product launches, opening parties, as a guest entertainer on cruise ships and can even perform a show virtually. Liam does not perform kids parties.
What is the best type of performance for my event?
If you haven't already check out the performance options page. If your event is a cocktail style event with guests walking around chatting and drinking, then roving close up magic is probably best. This style of performance involves Liam moving around your event performing close up magic for small groups. If your event has guests seated in front of a stage or a focal point then a stand up/stage show could be a better option. If you have less than 30 people at your event Liam can perform a close up show. A close up show involves the tricks that Liam would normally perform while doing roving close up magic performed for everybody at once. Often a combination of roving and stand up works the best. If you're unsure which performance is best for your event, Liam can help you decide.
How long does Liam's show go for?
Liam's stand up/stage shows can go for as short as 10 minutes or up to an hour. For roving close up magic Liam can perform for a maximum of 100 people in an hour although 60-70 people an hour allows your guests to experience a bit more magic. If you have a short event but a lot of people (for example 200 people but only one hour) Liam can arrange a second magician to make sure all your guests get to see some magic.
Can Liam incorporate my company's product or message into his performance?
Absolutely. Liam regularly customises his performances to incorporate a company's message, slogan, product or mascot. The more notice you give Liam, the better.
Is Liam insured?
question. Yes, Liam holds public liability insurance.
How many people can Liam perform for?
Liam has performed for groups as small as 2 and as large as 1000.
How far in advance do I have to book?
The sooner the better. Liam's calendar fills up quickly, especially Friday and Saturday nights.
How can I secure a booking?
Get in touch today and we can go through everything, it's easy
How do I pay Liam?
The best way to pay Liam is through a EFT. Liam also accepts payment by Paypal, credit card cheque or cash.
Does Liam use an assistant or do any corny tricks involving girls and boxes?
No and no.
Is Power really Liam's surname or is it some corny stage name?
Power just happens to be his surname, convenient huh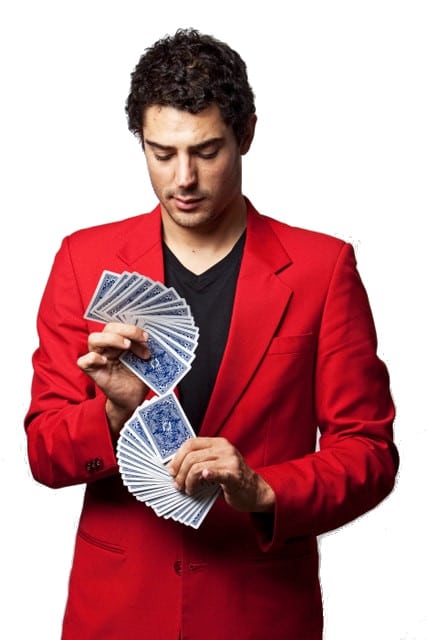 We hired Liam for our work event and he was great! Not only was his act praised and successful, but communicating and organising him to perform was easy due to how professional he was. Would definitely recommend.
RosieToby Plasto
19/09/2022
Liam was fantastic and entertained the crowd for a graduation ball. He moved seamlessly through the crowd and worked well in the space. Everyone was raving about him afterwards - definitely would recommend.
Liam was fantastic and provided great entertainment for all guests at the event. His magic tricks will blow your mind! We highly recommend Liam and would definitely use him again.
Liam performed at our fundraiser for MS and was an absolute hit - such a great start to our night, put everyone in a great mood & had everyone laughing as well as amazed with his magic, he put together a terrific, and fun, show for us. Also, really easy to deal with, we had to make a few changes to the event and Liam was able to accommodate them as they cropped up - overall highly recommend to all looking for entertainment - Liam is a polished performer, go right ahead and book him for your event.
Burgmann Functions
22/08/2022
Liam was fabulous, we recently had an event at the College and hired Liam, best decision ever! He interacted with the guests and was so good, highly recommend him to anyone looking for a magician. Very personable and so easy to deal with. Margaret Cadman Conference & Events Manager Burgmann College
Liam performed a roving magic show at our birthday party on the weekend and he was amazing. The tricks were incredible and highly entertaining. Liam engages with the audience really well and has everyone captivated during the tricks. All of our guests commented on how much they enjoyed his performance and it was a real highlight of the party.
I have seen Liam live on stage before and he was amazing. This time I hired Liam for my birthday party and we got to see some close up magic. I was totally blown away! Truly incredible stuff. On top of that, Liam had great banter with funny one liners while interacting with a diverse crowd. Very grateful he could make it and now I'm just looking for another opportunity to hire him again!
Francisca Salinas
26/07/2022
We hired Liam for a work event at a Bar in Sydney. He was very friendly and professional from the first moment I contacted him until the very last minute. He is an exceptional magician! we were so impressed and everyone got to see a little bit of magic in one hour (we were 45 people!). Liam is not only an amazing magician but has a such a charisma that you feel happy and comfortable around him when he is performing. I totally recommend him!
Cassandra Castro
17/07/2022
We hired Liam for our work morning tea event. Our guests could not stop raving about him. His professional and super engaged with the audience. Highly recommend him!
Liam performed at my 50th Birthday and I couldn't recommend him more. All my guests were raving about it for days afterwards. He is very professional, easy to communicate with and does magic that will blow your mind.